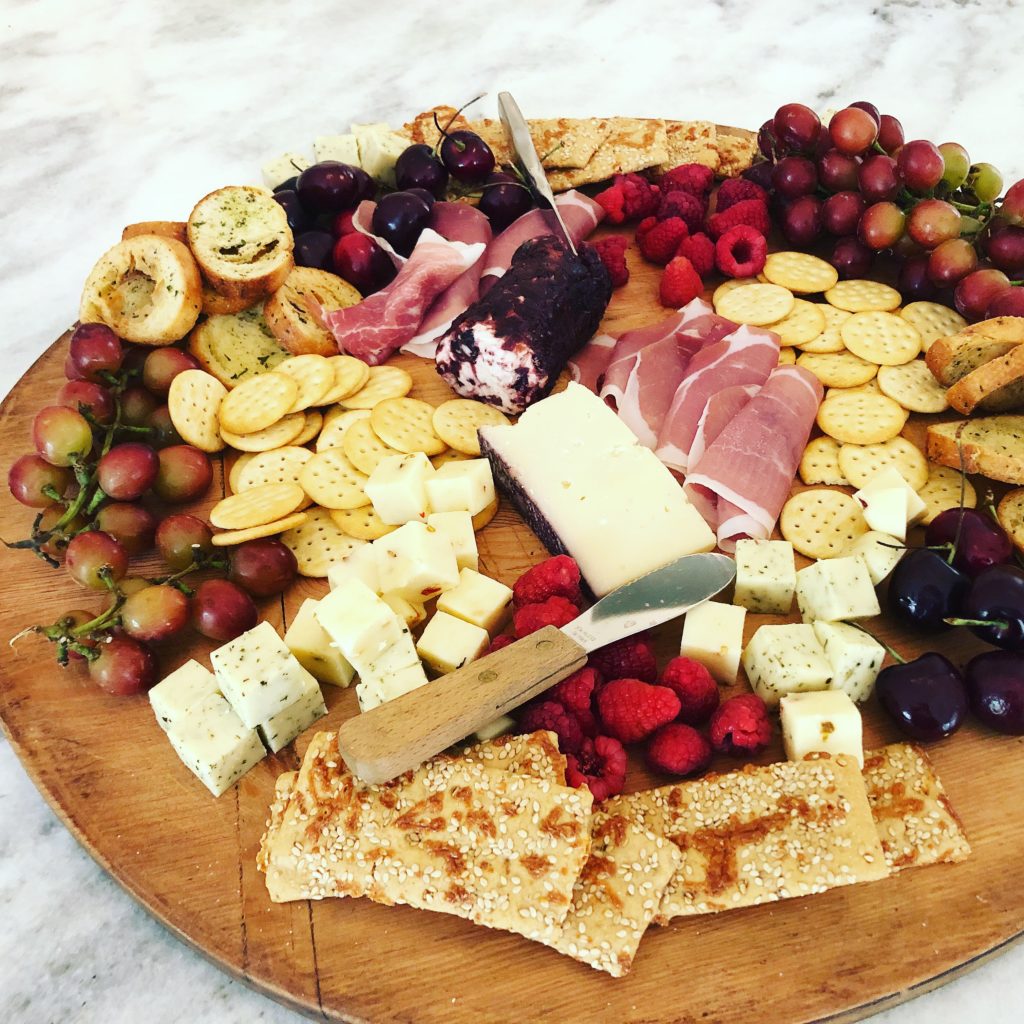 I always have the very best intentions to host and entertain people. However, I am finding that the same intentions I always have give way to the same excuses. When I was younger, it was that I had small babies and children with odd sleeping/eating/crying schedules (valid). As I am older now with older children, the excuses are different. Mainly…they have CRAZY schedules and no driver's license to fend for themselves. So, I am constantly toting them from place to place. Truthfully, it's a wonder ANY adults have any sort of friends. *Sigh*
However, the summer thankfully brings that much needed slower or at least slower-ish pace that our family needs. My husband and I and 1/3 of our kiddos are extroverts who long for company. Last year, we put in a pool and our house quickly became somewhat of a Grand Central Station-of-a-place to house and feed loads of people. And the tree was happy.
Here's the thing though- with all the people came my instinctual need as a mother to also FEED everyone. And feeding children Cokes and Drumsticks will work for a few hours, but as we all know, swimming creates an odd ravenous state, so eventually, I had to think quick and act fast when I would see all the mamas and babies headed for their towels!
Easiest thing in the world to throw together: A YUMMY Charcuterie Board.
Please do not dismay. I also do not know the appropriate pronunciation of this board-o-meats & cheeses and the like. Say it however it rolls off of your tongue with gusto! I *DO* know that this is the perfect way to wow and sustain a bundle of peeps! I have gotten so good at the charcuterie, I even do breakfast boards. Which as you will see is basically placing a bagel, cream cheese, fruit & honey on a lovely cutting board.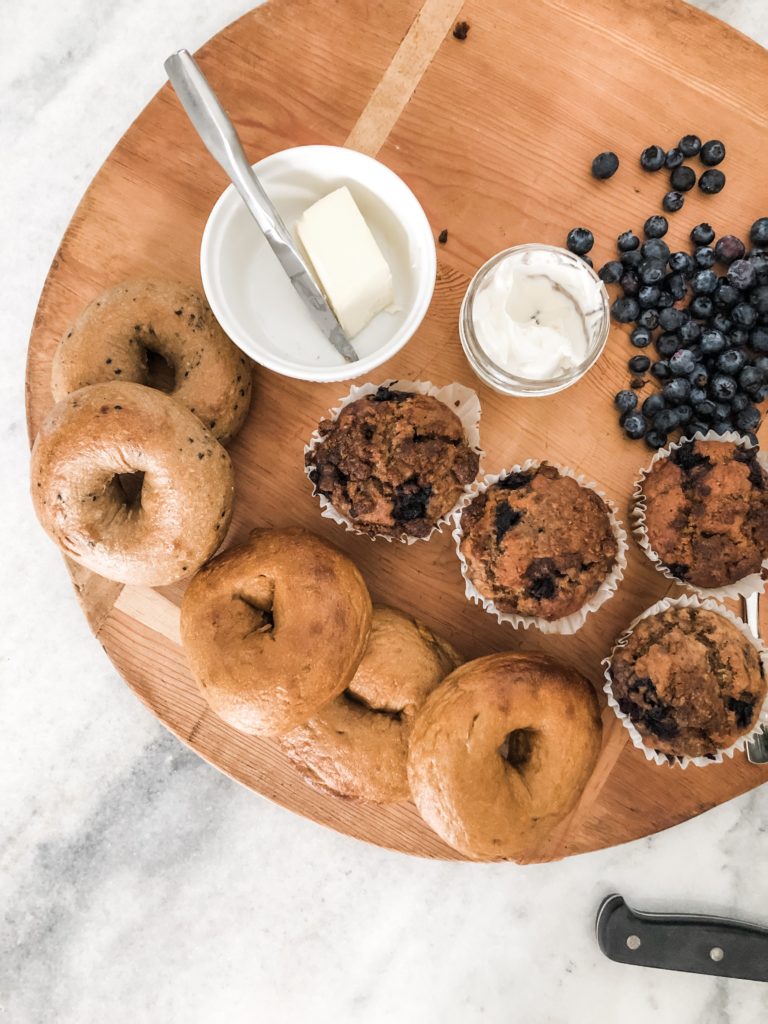 What You Need for a Perfect Charcuterie:
A BOARD. Here's the thing- you can do a large board- which is my personal preference, because you can literally throw ANYTHING on them and there is always room and the more the merrier! However, you can ALSO do several smaller boards and stack or line them up. Whatever you do, DO NOT feel like you have to spend a fortune. Most of us have a wooden cutting board somewhere that is not used, or I have seen people make their own with wood and screwing in some drawer pulls to add some flair! People are creative like that. But me, I love my huge-a** board that I use over and over and over. You can find lovely ones here, here and HERE. BUT like I said, don't feel like you have to break the bank to get started! Do you, boo.
MEAT. Here's the deal. You don't have to do meat, BUT a quality meat is the essence of a great charcuterie. AND the meat is filling and always a go-to for the men-folk. Meat on a wood board = gone. So, make sure you have backup, sister friends! I LOVE me some good salami, prosciutto and some little pepperonis. Now, I am typically feeding some kiddos, so that's where the pepperoni works for me, BUT there are much fancier ways to go like Chorizo & Capicola. Again, DO YOU. MOST grocery stores will have these meat items, but occasionally, you can REALLY step out and go to a specialty meat store and get your socks knocked off!
CHEESE. Ahhhhh…the nectar of the Gods. OH wait….maybe that's just me, but cheese is where you REALLY get to assert yourself on a charcuterie. The options are ENDLESS, I tell you. And if…just IF…you are blessed and highly favored enough to live near a Trader Joe's (which I sadly do not) they are beautifully helpful in introducing you to bad-a cheeses that you probably did not even know existed! Some of the cheese's that are a must for me on the board: Goat cheese with blueberry preserves, havarta, gouda, and truthfully, just a good ol' sharp cheddar cube REALLY floats my boat. Sometimes, I like to use pepperjack with hatch chiles to represent my home state of New Mexico. Word.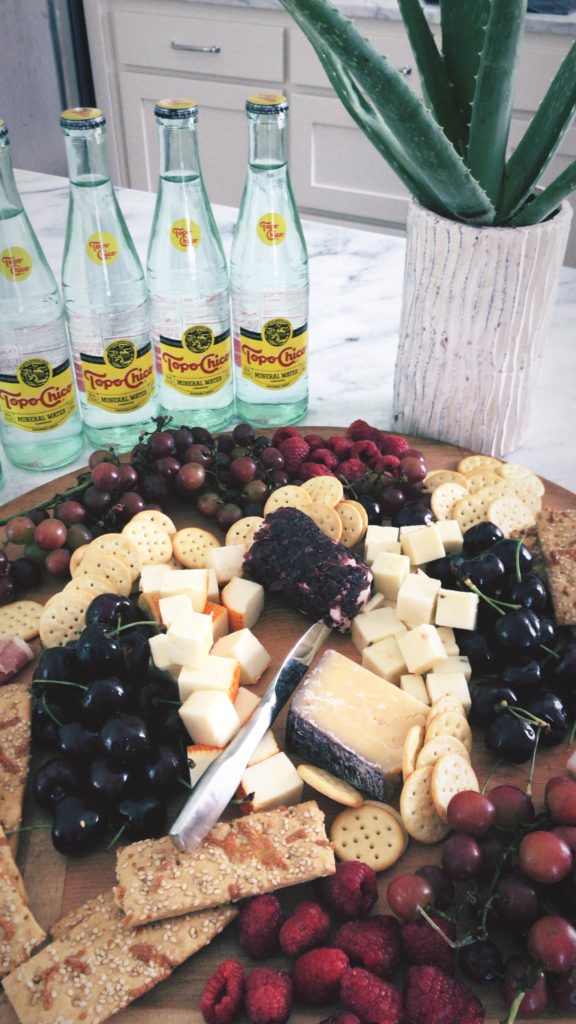 4. CRACKERS (or bread-y things). This is where you just let your taste buds to their thang. I think elements of surprise in different shapes and sizes is where I go for crackers, but really, do not overt-think it. People do like to have a little sumthin'-sumthin' to add to their meat and cheese though, so don't skimp! These and these are some of my go-to for the carbs!
5. FRUIT. I like to add on-the-vine fruit to my charcuterie delights because, well, what's prettier than a cherry or grape on a vine? I also am known to just toss apple slices, raspberries and blueberries all over mine. The acidity in the fruit ALWAYS pairs well with the cheese. ALSO, sometimes cutting a pomegranate in half and placing in near the center of your board is not only tasty, but also gorgeous and eye-popping. SWOON! You can also opt for dried fruit like apricots and cherries if you don't want fresh fruit!
6. Nuts . I heard someone, a "professional", the other day say nuts did not belong on a charcuterie and I blurted out, "Get that demon away from me.", or something like that, not sure, I was in a seeing-red kind of rage at that comment. Candied pecans are always dreamy, but for me, I just like a good old fashioned Marcona almond in a little corner of their own! Obviously, nuts are optional and be aware of any allergies that might need you to omit them from the board!
7. The ELEMENT OF SURPRISE. Ok, this one is where you get to shine. And don't come at me with the, "oh, but I am not creative…" bit. Please. WHAT DO YOU LIKE/LOVE? Add it to the mix! My secret to my charcuterie boards is a full honeycomb. Now, these things are expensiveAF and will break you, BUT for me, it is worth ooooohing and awwwwwing my audience. But I am an enneagram 3, so it will just be like that. I have seen a tremendously gorgeous board with EDIBLE FLOWERS that were beautiful and tasty. I have seen multiple jams in tiny mason jars. I think creating a breakfast board is also a great way to surprise your overnight guests! Whatever this extra element is, make it be unique to you!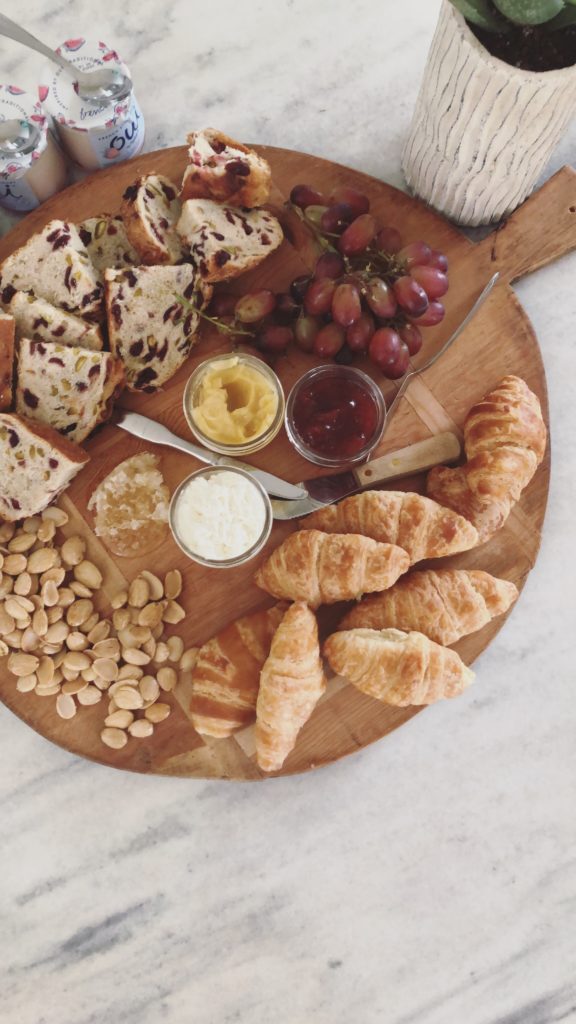 Ok, if this did not get your mouth watering and your hospitality creative juices flowing, friends, I cannot help you!! BUT if it did get you all excited to host a little summa get-together, please send me your pics! I would LOOOOVE to see your creations! Email me at nicki@nicki-wilson.com and show me!
xoxo, Nic